I'm so excited to be participating in my very first What I Ate Wednesday! Every Wednesday, a couple hundred bloggers participate in this virtual party organized by Jenn of Peas & Crayons.  We each share a full day of what we ate (not necessarily from a Wednesday).  
For months, I've enjoyed reading WIAW posts for the healthy inspiration they provide.  I was nervous to write about a day of eats because I do eat A LOT, and I often make some pretty big diet mistakes (like finishing whatever is in front of me, no matter how big the portion is), but I finally got the courage to write one of my own.  Since I only write a handful of posts every month, I don't plan to participate on a weekly basis, but I'm hoping to pop in and join the WIAW party every now and then.  So, here goes nothing!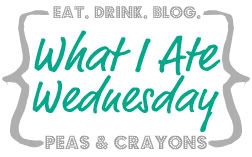 Here's my eats from Tuesday, May 29th.  Overall, it was a very good eating day for me.  I prepped hard over the 3 day weekend and brought filling meals and plenty of healthy snacks with me to work, which kept me from digging into the cereal stash in my desk!  Here's the meal by meal breakdown:
8:30am 
Tazo Passion Tea (right), Yerba Mate Tea (left) and a Raspberry Lime Parfait. 
I followed Happy Herbivore's recipe for Keylime Pie Parfaits using Mori-Nu Silken Tofu.  I was originally going to layer my parfait with oatmeal & berries, but instead I decided blend the oats & fruit along with the tofu in the food processor (I added 1/2 cup Oats + 3oz berries per bowl).  I also added a layer of chia seeds to the bottom of each bowl.  This came out SO good.  The oats made it really thick and creamy and it really tasted like Key Lime Pie.  Mike was a huge fan of this breakfast too, and I can't wait to try a Blueberry-Lime bowl tomorrow!
10:45am 
I was starting to get hungry but knew if I ate my lunch too early that I'd be starving all afternoon.  I decided to have one of the snacks I packed instead: A huge bowl of homemade hummus & veggies.  Note to self: It's not a good idea to go heavy on the garlic when making hummus that is going to the office.
12pm
Lunch was simply AWESOME. I made Fat Free Vegan Kitchen's African Pineapple Peanut Stew for my first time and this recipe was a WINNER.  It was super easy and so so so tasty!  The main ingredients are Kale, Crushed Pineapple, and Peanut Butter – stuff we all love, right?  I left out the Parsley from my batch since I didn't have any.  I served it over Brown Rice as suggested.
Oh yeah, and I also had my vitamins with lunch.  I don't take them with breakfast so that they won't interfere with my prescription medicines (dang thyroid!).  
The usual suspects: Vitamin B, Vitamin D, a Probiotic, Omega 3's (Algae based), and a Multi-vitamin
3pm
Feeling snacky…I hit the jackpot with these perfectly ripe Organic Strawberries!
4pm
I usually snack on a Banana with Peanut Butter in the afternoon.  Since I had peanut butter in my lunch though, today I had it plain.
5pm
Okay, I did go into the snack drawer once today – for this Kid-Sized Granola Bar, the last left from my Foodie Pen Pals box from Foodasaurus Rex.  And this little bar saved my night.  I got stuck at work late, then upon arriving at the Metra train found that they were all delayed due to a "pedestrian incident" on the tracks.  I then walked down to the CTA El train only to find that they were also delayed due to a 3-alarm fire at a building near the tracks.  Thankfully the CTA trains were moving by the time I got there, though very very slowly and through thick smoke.
7:30pm
This was a late dinner for me.  Thankfully I cooked my meal the night before and just had to re-heat!
I made Happy Herbivore's Pinto Burgers (EHH p. 86) along with her Chipotle Mayo (EHH p. 266) and Lemon-Dill Potato Salad (HH p. 189).  Both the Chipotle Mayo and the dressing for the Potato Salad were also made from Mori-Nu Silken Tofu, so they were incredibly light and creamy.
I decided I'd rather have two burgers than one burger and one bun.  Tradeoffs, right?  The burgers were a little dry, but the Chipotle Mayo more than made up for it.  This is some seriously spicy stuff, and it only has 10 calories per Tbsp!  I loaded it on, and even smeared some extra on my Corn on the Cob.  My mouth was on fire, and the cool lemon-dill potato salad helped to put out the flames whenever the heat got unbearable.  
I normally snack on popcorn in the evening, but since I had a late dinner (and already had my share of corn for the day), I decided to skip it.
I proudly ate 100% vegan today (usually I make at least one tiny mistake, like having a sip of Mike's coffee).  And Mom – quit worrying about me – today's eats totaled 82 grams of protein and 67 grams of fiber as per MyFitnessPal.
Bonus Eats: Here are some other great meals I ate this past week:
RAW Chicago with Stina:
Raw Sampler Plate
All American Vegan: 
           BBQ Soy-Curl Sandwiches          Blueberry-Corn Pancakes & Tempeh Bacon
I love fruit!
                              Guava                                       Grilled Pineapple with Coconut & Rum
 Korean Food (@ Jin Jiu)
             Bi-Bim-Bop (w/o egg)                                                      Kim Chi & Accompaniments
Vegan Brunch (@ Karyn's Cooked, with our dear friends The Kleins & their amazing parents)
                       Karyn's Cooked Vegan Restaurant                                            Delicious Brunch Menu
     Tofu Quesadilla (crowd favorite)               Skillet Scramble with Sweet Potatoes & Lime Sauce
Banana French Toast (Wow!)
I'd love to hear from you!
What was the best eat of your day?