I did a LOT of cooking this weekend!  In addition to my regular weekly meal prep, I also volunteered to cook Easter dinner for Mike and his parents (with a little bit of help from Mike and his Dad
I admit, my "volunteering" to cook was mostly self-serving.  By offering to cook, I also got to be in charge of planning the menu!  I chose easy, produce-packed recipes – almost all of which were new to me.  Also, remembering how so many holiday dinners lasted just 20 minutes after my Mom had spent an entire day in the kitchen, I planned a menu that would allow for a slow and leisurely dinner with an appetizer and a soup course preceding the main meal.
In my opinion, our Easter dinner was even more of a success than our Thanks-Vegan dinner!
On Monday when I returned to work, my coworkers told me how tired and uncomfortable they felt after their heavy Easter Dinners.  That's when I realized just how wonderful my own dinner had been.  We FEASTED, but since all of our dishes were healthful and plant-based there was no junk-food hangover at all. 
Appetizer
We started with the Pesto Stuffed Mushrooms from Happy Herbivore Abroad.  I'm in the process of overcoming a severe mushroom-phobia and refuse to touch Raw mushrooms, so Mike was in charge of making these.  And you know what? I loved them!
The oil-free white-bean-based pesto was surprisingly delicious.  We're thinking of even trying this "pesto" on pasta.  Mike added about 1/4 cup of breadcrumbs to the mixture plus more on top of each mushroom but otherwise followed the recipe exactly and it made a lot more mushrooms than we expected!
The best part was that unlike traditional (cheesy/oily) stuffed mushrooms, I didn't have to feel guilty about eating my fill.  The four of us alone polished off the entire tray before dinner!
Soup
Next was our Soup course.  The soup was the only recipe I'd actually tried before: Happy Herbivore's Creamy Carrot Soup.  I am obsessed with this soup.  It's so easy to make and has so few ingredients: Carrots, Oatmeal (the secret ingredient), Onions, and a little bit of seasoning, plus I added a dash of Parsley on top for color. I tripled the recipe and wound up having 3 bowls of this soup in one sitting for dinner the next night!  
Salad
I also made a big beautiful salad of Spring Greens, Fresh Dill, Cucumbers, Sugar Snap Peas, Cherry Tomatoes & Grated Carrots.  Yum!
What wasn't so yummy though, was my attempt at a homemade Salad Dressing.  Thankfully, I had some Annie's Lite Honey Mustard Dressing on hand, and I did learn a good lesson from my mistake.
I tried making this Maple-Dijon Vinaigrette which probably would be delicious if not for one bad decision on my part.  The recipe called for a minced shallot.  Since the dressing had to be mixed together anyhow and my food processor was already out, lazy me simply threw all the ingredients in the food processor.  When I tasted the dressing, there was a very nice maple & mustard flavor that was completely overpowered by a very very strong taste onions.  I thought maybe my shallots were too big and set to doubling then tripling the rest of the ingredients in the recipe in an attempt to counteract them and even threw in half an avocado but I still couldn't dilute the onion-y flavor.  
Then suddenly it all made sense.  I hadn't used too much shallot.  But by pureeing it instead of simply mincing it, the shallot released too much of its juices and it's flavor.  I won't make that mistake again!
Main Dish
For our entree, I made Nava Atlas's Quinoa Pilaf from Vegan Holiday Kitchen, though unfortunately I didn't love the way it turned out.  I thought it was a little bit odd that the recipe called for both ginger and dill – an unusual combination – but I went with it.  Honestly, I think I would have loved this dish if I had simply left out the dill (and I love dill!).  The dish actually reminded me a lot of my favorite Stir-Fry… except for, of course, the dill.  I had also added a can of rinsed & drained lentils to make it extra filling, but I don't think that was to blame at all.  Thankfully, the "interesting" flavors of this pilaf were nothing that a little bit of Louisiana Hot Sauce couldn't fix!
Sides
Mike's Dad brought a beautiful bowl of roasted Asparagus, Wax Beans, and Red Peppers with Walnut Oil.  Originally he was going to make just Asparagus, but he wanted to add more color to the dish.  The Red Peppers were so tender and flavorful so I think it was a very delicious move on his part!
We also served some warm dinner rolls, though we took a short-cut by using store-bought Alexia's Whole Grain Rolls from the freezer aisle at the grocery store.
Intermission
I had seconds of everything and still didn't feel heavy at all since everything was so healthy.  Instead of parking ourselves on the couch in traditional holiday style, we decided to go for a short walk before dessert.  I was excited to spot plenty of Crocuses and my first Bunny Rabbit of the year!
Dessert
For months I've been wanting to try my hand at Banana "Ice-Cream" but hadn't done it yet.  For Easter Dessert, I decided to make this bright-pink version that I saw in the Whole Foods Market newsletter.  I really enjoyed this simple frozen dessert of nothing but Bananas, Raspberries, and Cashews (and no ice-cream maker required) that tasted a lot like a smoothie.  My food processor did seem to struggle a bit with the frozen bananas though, so I think next time I'm going to try Dreena Burton's take on a Chilled Raspberry dessert, which looks incredible!
We also couldn't resist breaking into the chocolate bunnies Mike's Mom had brought us, but overall I consider it to be a successful, healthful holiday.
While that concludes our Easter Feast, there were still more Kitchen Adventures at my place over the weekend.
Another Kitchen-First for me was that I had my first ever "Avocado Toast".  I actually mashed some Sauerkraut into the Avocado as inspired by the Purely Twins.
 I also tried out four new recipes for my Weekly Meal Prep and all were successes!
For breakfasts, I was craving Lemon Pancakes but also was very curious to try out the Perfect Pancakes recipe from Vegan Brunch that the entire Veg Cookbook Club seems to be raving about.  To get the lemony flavor I wanted, I decided to top them with the Lemon Creme from Blissful Bites.
Now, I am NOT good at making pancakes.  Mine are usually undercooked in the center, overcooked on the outside, and the first pancake NEVER comes out right.  But with this recipe, every single one of my pancakes was truly picture perfect.
The Lemon Creme came out great and it was so thick and creamy that it actually didn't make my pancakes soggy when I layered them with the creme and packed them up for my breakfasts at work.  I also topped them with some fresh Strawberries & Kiwi slices, which was especially fun since I had a new toy to try out – an OXO Strawberry Huller that was a recent impulse-buy on a trip to Bed Bath and Beyond.  I still am quicker with a knife when it comes to prepping strawberries, but the Huller was really fun to use and wasted a lot less of my strawberry tops!
For my lunches for the week, I tested out April's Veg Cookbook Club selection: How it all Vegan by Sarah Kramer and Tanya Barnard.  I owe a huge thanks to my friend Laura who gave me her copy of  the book!
I made their Tempeh-Based Faux Chicken Salad which I kept very low-fat by using a batch of the book's Soy Mayonnaise.  I wasn't able to follow the recipe exactly since I had run out of mustard while desperately tripling my Maple-Dijon Vinaigrette recipe for Easter Dinner.  In pure clean-out-the-fridge mode, I bravely decided to flavor it instead with Pickle Juice and even threw my one last pickle into the food processor.  It turned out to be pure genius.  Both Mike and I have been loving our lunches this week which include a scoop of this Pickle-y mixture over brown rice and a tossed salad.
If you want to see more healthy eats, check out the What I Ate Wednesday link-up party on Jenn's blog!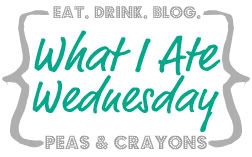 I'd love to hear from you!
What was the best dish you ate recently?
What's your favorite way to eat an Avocado?